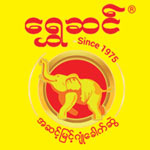 GOLDEN ELEPHANT HIGH QUALITY NOODLE
Mon

8:00 AM

-

5:00 PM

Tue

8:00 AM

-

5:00 PM

Wed

8:00 AM

-

5:00 PM

Thu

8:00 AM

-

5:00 PM

Fri

8:00 AM

-

5:00 PM

Sat

8:00 AM

-

5:00 PM
Sunday ေန႔တိုင္းပိတ္သည္။
Company Profile
GOLDEN ELEPHANT Noodle Factory was founded since 1975 in Kawlin City, Sagaing Division and mainly focused on product Quality, Safety and Healthy. In 1988, Factory expanded to Sagaing City, Sagaing Division and quickly established itself as a market leader in Noodle Industry. In 1995, Factory expanded the production line in order to fullfill the market demand for majority of Large Cities throughout Myanmar. In 2009, the second factory was expanded with new production line of Automatic Noodle Machine in Padamyar Industrial Zone, Sagaing. We treat our client with sincerity. We are progressing as a professional manufacturer and distributor in noodle with our efforts, advanced skills and professional knowledge.
Business Categories
Noodles/Thin Wheat Noodles/Vermicelli [Cereals, Grains & Legumes]
Distributor/Suppliers [Food Service]
Export/Import of Food & Beverage Products [General]
Foodstuffs [General]
Hotel Equipment & Suppliers [Food Processing, Storage & Packaging Equipment]
Catering Services [Food Service]
Brands / Services
Golden Elephant Hight Quality Noodle.
SHWE AYAR Dried Noodle .
SHWE LAN Dried Noodle .
MR.CHEF Dried Noodle .